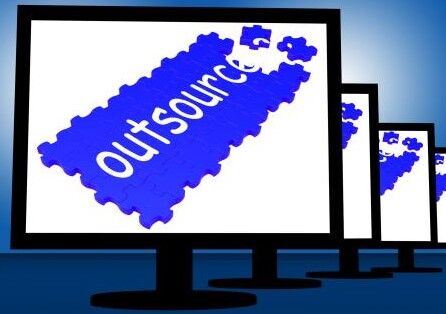 Technology in today's world advances at lightspeed. So, it's realistic to expect that the IT talent and skill sets inside most organizations cannot keep up. The talent shortage creates big challenges for businesses in all industries with critical technology needs. Increasingly therefore, when a project comes along that requires expertise outside their wheelhouse, companies turn to TeamLogicIT. Our nationwide network stays in front of technology solutions by investing in research necessary to bring innovations and cutting-edge skill sets to our offices, and ultimately to yours.
WHAT BUSINESS PROJECTS CAN BE OUTSOURCED?
Instead of consuming the full attention of your company's staff, TeamLogicIT can be your partner and assist your business with the various projects. Our project IT outsourcing may include the following: Help Desk services, IT Relocation services, Structured Cabling, Servers and Network Design, Virtualization, Procurement Services, and Infrastructure Upgrades.
IT Help Desk Services follow best practices to ensure your employees stay productive. Our services include 24/7/356 coverage, support by skilled technicians, toll-free phone lines, escalation procedures, co-managed ticket workflow, call tracking through to resolution, workstation hardware support, workstation support, core application support, email client support, Microsoft Office 365 support and call activity reporting.
IT Relocation Services of a company's technology requires advanced planning, a keen understanding of logistics and an opportunistic mindset. An it support company Dallas can manage every detail of your data center relocation from disconnecting to reassembling technology. TeamLogic IT consulting experts in Plano can help you strategize how to best optimize your transaction and facilitate every aspect of the move, whether it's across town or across the country. We understand the time-sensitive value of your business' data assets.
Structured Cabling (constant connectivity) is rarely seen by the busy professionals who rely on it. Structured cabling is an essential component of business performance and the backbone of your organization's communications network. Whether it's upgrades for cabling from Cat 5 to Cat 6 or advising companies on decisions regarding methodology and design or overseeing contractors and carriers to ensure proper installation, TeamLogicIT is ready to help and support your business needs.
Servers & Network Design are those things that are behind the scenes in a company. However, your network is the unseen hero of your business, tirelessly making sure data is traveling where it needs to go. It may seem to be working fine, but just like your car, it requires service, and will eventually require an overhaul. Network consultants, engineers and technicians from TeamLogicIT will work with all sizes of businesses to ensure their network and server design is up to the task. From on-premise servers to enterprise grade systems able to handle massive demand spikes, we work tirelessly to make sure your system delivers industry-leading speed and security.
Virtualization is the power of one. It allows your company to run multiple operating systems and applications on a single computer. For example, let's say you are a university with five campuses and you have a significant amount of aging hardware. Rather than purchase and replace, you can install a virtual client on the existing equipment, saving hundreds of thousands of dollars in capitalization costs. Virtualization also allows the easy transfer of applications to mobility devices. TeamLogicIT can help you evaluate the risk and reward benefits to determine if virtualization is right for your business.
IT Procurement Services are very important especially when size makes a difference. As a nationwide network, TeamLogicIT brings significant economies-of-scale to bear in procuring your IT equipment and software licenses. Our experts consult with you to identify your needs, budget parameters, and work only with reputable suppliers. And since we are vendor agnostic, you can be confident our recommendations are based strictly on the best fit for your business.
Infrastructure Upgrades for many business leaders, highlight the gaps and opportunities in existing IT infrastructure. Clinging to older legacy systems is costly and may only get worse. By companies replacing outdated assets, it will eliminate incompatibilities and strengthen security from the network to VPN setup to PCs' operating systems. The older the solution, the more vulnerable it is to compromise, server down, and data loss.
Upgrading systems, automating processes, and improving collaboration and/or customer-data access, can empower users to work more efficiently, improve customer service, and boost productivity. Companies need to prepare for the future. Upgrading certain technologies now can prepare businesses for future growth and expansion. Upgrades can also support compliance with emerging data storage and security mandates.
Today's business climate is intensely demanding, and IT can play a pivotal role in shaping your success. TeamLogicIT Plano can help companies find ways to be more productive, secure and competitive. Whether you need help on a project or want a top-to-bottom operational assessment, we can help you with everything from infrastructure and IT security to data management, cloud or advising applications, privacy issues, and more. Contact us at our website teamlogicitplanotx.com or call (469) 573-3743.
FREQUENTLY ASKED QUESTIONS ABOUT OUTSOURCING IT PROJECTS?
WHY DO BUSINESSES OUTSOURCE PROJECTS?
The main reasons why companies outsource project work are because it can be done cheaper, faster, and/or better than if they tried to do it themselves. In many cases businessesdo not have the technology, manpower, and know-how to do the work. They also outsource work when their own resources are not available.
WHAT COMPANIES USE OUTSOURCING?
Some of the world's most successful companies, including Alibaba, Slack, and Skype, used outsourcing to get started, or even continue to outsource part of their development today.
WHAT ARE THE 5 STAGES OF A PROJECT?
The five phases of project management include conception and initiation, planning, execution, performance/monitoring, and project close.