8/18/2021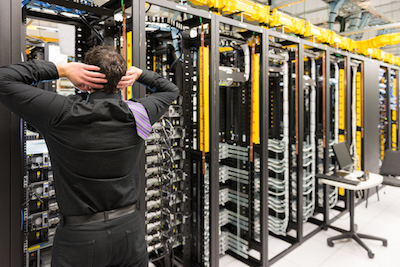 To most SMBs, DR is the familiar acronym for Disaster Recovery, an area of security planning in which companies document the processes and procedures they will take to protect (and quickly restore) IT infrastructure following a catastrophic natural or human-induced event, such as employee malice or neglect, and yes, even riots.
In a post that explores cloud-based DR services, author and technology analyst Leonid Feinberg lists several justifications shortsighted companies make for not having or following a Disaster Recovery Plan, which he indelicately calls "lies and myths." What leaders who use them fail to acknowledge, Feinberg asserts, is that operating without a DR system can be more costly and inconvenient than investing in the necessary planning and protection. Examples of these convenient un-truths include:
#1: DR is Only for the Big Guys: There was a time when this may have been true. But as any IT professional or IT Managed Services Provider (MSP) will attest, those days are gone. Today, DR and storage costs are down, and solutions and options are plentiful. With DR knowledge and expertise readily available from MSPs and others, previous barriers to affordable, reliable DR have effectively been removed.
#2: DR is Costly and Complex: In the pre-cloud days, perhaps. But right now, not so much, especially when you enlist the support of a cloud-savvy MSP. Generally, cloud-based DR solutions can be simple and cost-effective enough to be considered in any SMB disaster-recovery discussion.
#3: I Do Backups, I Don't Need DR: It's easy to see how companies, especially smaller ones, could fall prey to this reasoning. But while backups and DR both relate to protecting and restoring data, they are, in fact, two separate practices.
Feinberg likens data backups to a car's spare tire. Putting it on requires time and effort to retrieve the wrench, remove the lugs, grab the spare, slip it on, and chuck the flat into the trunk. Which is to say, metaphorically, that restoring from a backup can be more labor intensive, and may in fact take days, weeks or longer–depending on system scale and complexity. DR aims to restore data, applications and services quickly, with minimal downtime.
Since SMBs are now hackers' preferred target, regular backups are essential. But so is an up-to-date DR plan.
Are you putting off strategic DR for these or other reasons? If so, you may be exposing your company to potentially disastrous consequences. Get the true picture of what's at risk and how a Disaster Recovery Plan can help safeguard your company's data, customers and reputation. Call TeamLogicIT Plano (469) 573-3743 or contact us as teamlogicitplanotx.com.