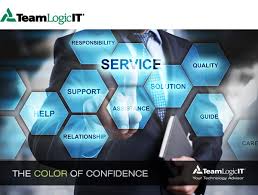 Business is about people. They shape the culture, products and services of every company, making each unique. Technology runs behind the scenes and gives businesses their hopes, dreams and aspirations to be successful. Technology is ever evolving and companies will thrive or dive based on how well they leverage it. That's why TeamLogic IT focuses on people first and technology next. We want your business to soar. We want to understand your corporate culture, challenges and budget to deliver the IT services and solutions that make sense for your business.
IT services refers to the application of business and technical expertise to enable companies in the creation, management and optimization of or access to information and business processes (Garner). Here is a list of the various IT services Dallas and in Plano that TeamLogic IT provides.
Managed IT Services: Managed IT service is when a company deploys certain IT functions to a third-party provider, referred to as a Managed Services Provider or MSP. These may be full IT team outsourcing with cybersecurity, data backup, disaster recovery, business continuity, unified communications, mobility and email support. It may also be just as basic as keeping IT equipment and other services functional.
Remote IT Services: This service refers to a system that allows a person to connect with and use a specific computer or network from a remote location. That way, your IT consulting specialists won't have to make you wait until they can physically come out to the office when you experience a problem.
Basic Maintenance IT Services: Break/fix—an older style for delivering IT services and repairs to businesses in a fee-for-service framework. Essentially, a client contacts a break/fix specialist to request upgrades, maintenance, or to resolve issues, and the technician bills the customer upon completion of the work.

Supplemental IT Services: Even with an IT department businesses can find themselves running short on skill sets and resources to meet deadlines and speed-to-market issues. TeamLogic IT is your go-to tech team that can bridge the gap and help you meet deadlines and goals.

IT Outsourcing Services: When you realize you need IT support 24/7, call TeamLogic IT. We provide pragmatic, cost-effective outsourcing solutions that are customized around your business. From remote monitoring and trouble-shooting to equipment upgrades and network assessment, we bring expertise to you locally, with a nationwide footprint.

IT Consulting Services: TeamLogic IT has a comprehensive array of IT services and skill sets to help you with your business challenges. From procuring equipment, installing and configuring systems and bringing critical technologies to the table, we work with your company to find the technology solutions that make sense.
Cloud Services: Business today is no longer confined just to the office. It is moving to cloud solutions to enable work anytime, anywhere capabilities across multiple devices such as laptops, tablets, and smartphones. Cloud delivers 24/7 permission-based access to your company data and mission-critical software applications.
Help Desk Services: Highly capable IT advisors available around the clock when issues arise. No matter the hour of the day, our IT Help Desk is here to support you with troubleshooting and technical issues so you can get back to the business at hand. You'll enjoy rapid response, clear and proactive communications, and a technology partner focused on being there for you when you need us the most.
Relocation Services: Relocating a company's technology requires advanced planning, a keen understanding of logistics and an opportunistic mindset. Disconnecting and reassembling technology is a suitable time to re-assess your core infrastructure. This is the perfect time to address upgrades, phase out legacy systems, leverage cloud services, etc. TeamLogicIT experts can help you strategize how to best optimize your company's transition and facilitate every aspect of the move, whether it's across town or across country.
Our chief priority at TeamLogicIT Plano is to understand your business needs from wide-ranging strategic initiatives to reducing IT overhead and everything in between. We are business people just like you, and recognize the importance of advancing company objectives via smart IT solutions and services.
Tell us at TeamLogicIT Plano how we can support and help your business by giving us call at (469) 573.3743 or going to our website at teamlogicitplanotx.com.
FREQUENTLY ASKED QUESTIONS ABOUT IT SERVICES?
WHAT DO IT SUPPORT COMPANIES DO PRECISELY?
IT companies are responsible for making sure that operations in a business are running the way they should. IT is also responsible for installing new software, hardware and providing technical support. Basically, IT assists with device, software and data management across the entire company that they're working with.
IS GOOGLE A IT COMPANY?
Google LLC is an American multinational technology company that specializes in Internet-related services and products, which include online advertising technologies, a search engine, cloud computing, software, and hardware.
DOES AN IT COMPANY PROVIDE A SERVICE-LEVEL AGREEMENT?
The Service Level Agreement (SLA) is important when utilizing outsourcing IT services. This is an agreement where the service provider details the list of support actions that will be provided including end-to-end program management and deliverables to your business.